So, hey guys, I know I never put one-shots and short-storys in this blog, but fuck it. I want to put this here because its about suicide and that stuff so I think it belongs here. Since my sister died I've been really away from all this, and sorry about that, so I decided to post something in here. So yeah, anyways, this is based on a true story I found online, and this is the first part. Enjoy!
- You have to eat. Like an apple or something. – Sally was eating really fast, and talking with her mouth full.
- I'm not hungry, Emily. Just drop it.
While Emily was eating her pancakes, Sally was sitting in front of her playing with a fork and waiting for her sister to finish her food.
-What's up with you? Is it something going on?
- No. I'm just tired. I'll be ok. – Sally faked smiled and Emily forgot about it, like the usual.
- I'm done! – Emily grabbed her bag and left the kitchen, when Sally went to me living room to get her black bag. Both left the house at the same time to wait for the school bus.
When the bus arrived, Emily sit next to her friends and Sally sit alone, put the headphones on and forgot the world.
The school hall is a scary place for Sally. She is terribly shy, and can't stand when people look at her, so the school hall is her worst nightmare. Today, she was with her sister, something rare, when Blake passed, and she stared at him.
- You love him. Right?
- How can you love someone you don't know?
- I dunno Sally, I don't understand love. Do you?
- No one does.
- But you fancy him?
- Yes. I think everyone in this school does, even some boys. He is fucking hot and we both know it.
Emily laugh but didn't give up, she new her sister was trying to change the subject.
- Why don't you go talk to him?
- And say what? – Sally did a weird accent and said - "ho, hello, I'm sally and I want to talk to you about food. Lets have lunch together!"
- Don't be stupid, Sally!
- Is not going to work out. And if I do go talk to him, his girlfriend and her friends will call me "freak" and "weirdo" like they usual do, and make fun of me. Maybe even beat me up. And I don't want that.
- I know. But if you really care about him, you should try that. You've got nothing to lose.
Emily walked away, leaving Sally really confused. It was lunch time, so Sally went to the cafeteria to get her lunch and went to the school park so she could eat by herself, like she always does. She doesn't have a lot of friends, but she likes to be alone.
Blake got into the bus too, but she was to afraid to talk to him, because his girlfriend, Kelly, was there too. She just looks away and pretend they aren't there.
Blake lives a block away from her so he gets home before her.
Later, in that day, Sally waited for the school bus to go home and saw that her sister wasn't there. She got a bit scared, because that wasn't normal, but she kept positive and soon she forgot about it. When she got home she went to her room, the attic (she really likes being in there, she has a great view of the neighborhood and she doesn't have to share her room with Emily. Plus, she can't hear noises from downstairs and she can put music out loud!)
Sally dreamed about death that night. When she woke up, around 5am, she started crying and drowned in the pillows, listening to music and trying to fall asleep again.
The next day, in Biology class, she noticed a worried expression in Blake's face. All the time, the same worried expression. "He is freaking out. I wish I could talk to him", she thought. She died a bit inside. Not the feeling like your heart is broken and you don't have anyone to help you fix the pieces (something she felt a lot), but a new painful feeling, like someone burnt a piece of her heart, and the flames spread to her body.
She didn't know why she was like that, she couldn't understand why so much pain just for an expression, and she couldn't stop thinking about it.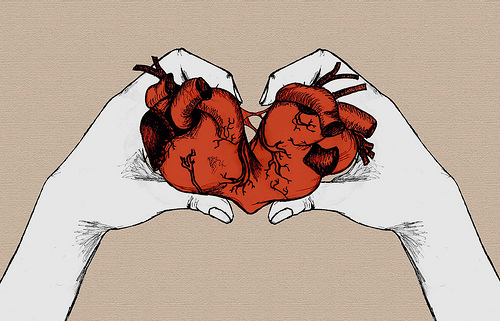 De CP* a 19 de Dezembro de 2010 às 00:13
adorei *.*

tinha de ler isto em 5 minutos, mas no final foram 10...
xD

Kisses' :3
De CP* a 19 de Dezembro de 2010 às 00:18
a melhor parte é do "Kill Someone" e dpois "Killers" & "1dead person" x3
De CP* a 19 de Dezembro de 2010 às 00:21
o primeiro foi da história mesmo
o segundo foi da parte dos coments...
xD
De CP* a 19 de Dezembro de 2010 às 00:26
depois podes divuilgar, eu não tenho muita gente para dar o meu link...xb
De CP* a 19 de Dezembro de 2010 às 00:49
don't know...
something...
say what blog's all about..- please
De CP* a 19 de Dezembro de 2010 às 00:56
De CP* a 19 de Dezembro de 2010 às 01:05
De
Scarlet
a 19 de Dezembro de 2010 às 01:14
obrigada. bom saber que não sou a única.
De seekingbeautyindissonance.blogspot.com a 20 de Dezembro de 2010 às 20:13
Eu adorava ter ido ao concerto. A sério que sim. Mas eu vou estar aqui quando eles voltarem para recebê-los. :)
Adoro a música do teu blog, mas isso é o normal, só tens boa música aqui.
A tua irmã morreu, querida ?
De
sara
a 20 de Dezembro de 2010 às 23:38
Jack Off Jil e Babes in Toyland não conhecia mas até gostei :)
nirvana é a minha banda favorita portanto já os conheço muito bem :D